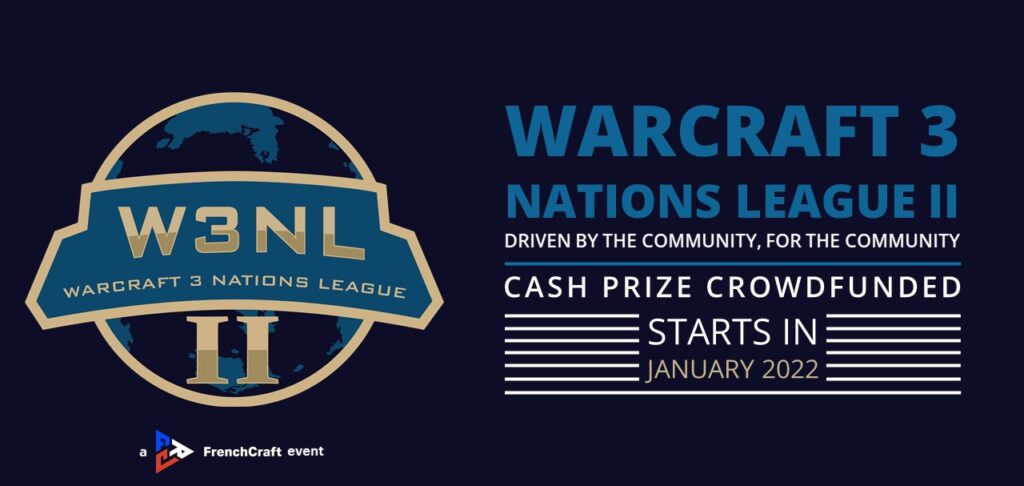 The Warcraft 3 Nations League – Season 2 is a tournament hosted by FrenchCraft, and organized by various people from the community that all have a passion in common: Warcraft 3.
In this page, you'll find all the informations you need depending on if you are a potential viewer, national team manager, or national team player.
---
Matcherino:

As last year, the W3NL Season 2 will only happen if we reach the minimum target of $1,000 through our Matcherino. To help speed things up, we've added a few stretch goals :
Starting from $100 to $400, we'll reveal four of the invited nations
At $500, registration will be open to every nations!
And finally at $1,000, this is going to be where all the fun starts!
And because we also want to give you a little something in return, the W3Champions team allowed us again this year to give you an exclusive W3NL Profile Pictures for your W3C account for $5 only (with $2 going for the W3Champions Team!), showing how engaged you are to support your favorite National Team!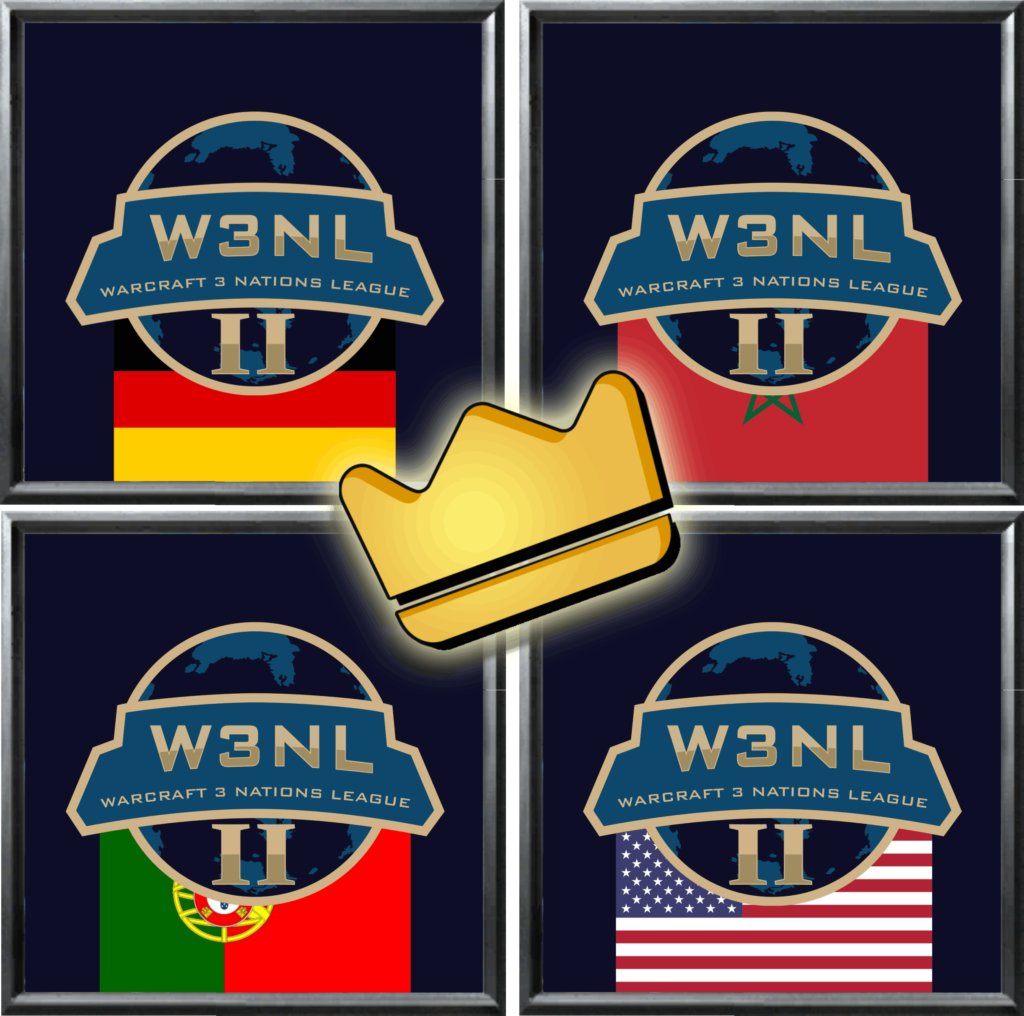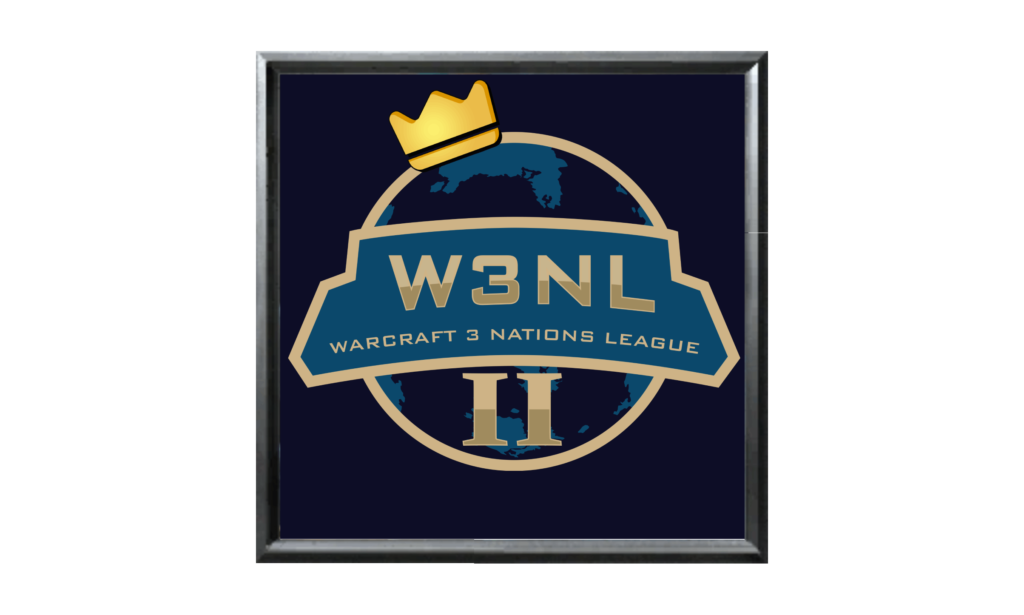 W3NL Icon for W3Champions
---
Quick links:
https://matcherino.com/tournaments/59959/clr/0/?minimalui=1
---
FORMAT AND SCHEDULE

Depending on the Matcherino results, we're targetting to open registration soon until December 31st, then start the qualifiers on January 22nd, 2022.
Tournament structure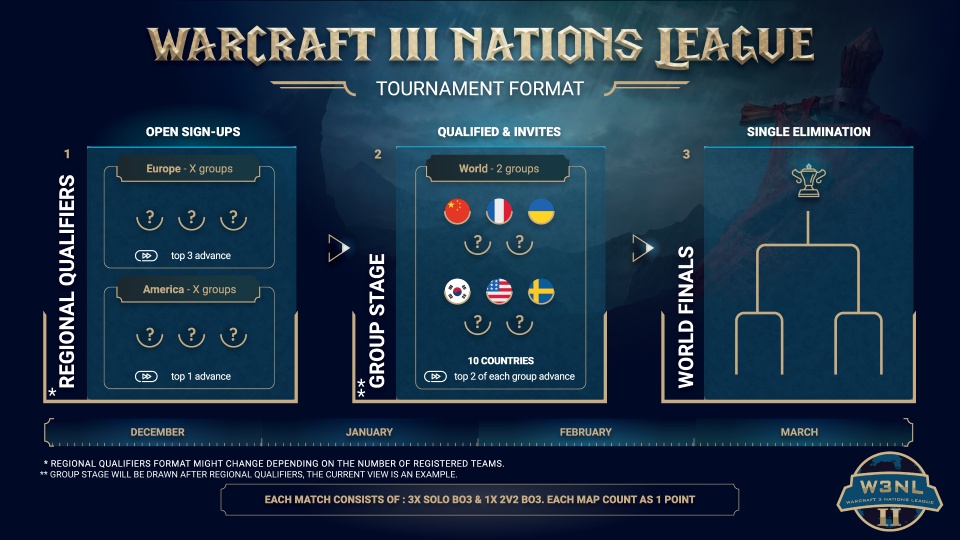 Nation war match format
–1x 2v2 played in Bo3
–3x 1v1 played in Bo3
-In case of a draw, an Ace match in Bo1 will have to be played.

Platform
All vetoes and matches preparation will be done on NW3CL, if you are a player or a manager, having an account there is mandatory.
Server
All games are to be played on W3Champions Flo server. If a match opposes two nations from two different continents, please refer to this default host server matrix (if no agreement is found between the two opponents, the game has to be played on the default server below). As servers and routes often change, W3NL administrators team reserve the right to update the matrix on the go: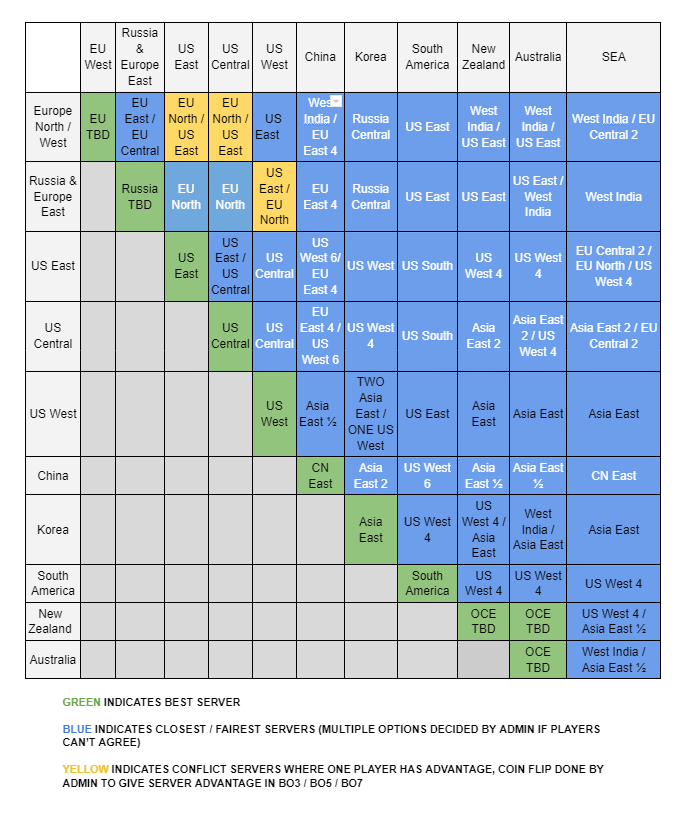 Mappool
1v1:
Autumn Leaves
Concealed Hill
Echo Isles
Last Refuge
Northern Isles
Shallow Grave
Tidehunters
2v2:
Gnoll Wood
Hillsbrad Creek
Lost Temple LV
Shattered Exile
Turtle Rock
Tidewater Glades LV
Twisted Meadows

Vetos
Veto process is done via NW3CL.com website (again, if you're manager/player, you need to have an account there).
Both 1on1 players and 2on2 teams veto two maps. Those maps are eliminated from the match and will not be played.
After the starting map (game 1) is played, both players veto two maps alternately, starting with the winner. The losing player can choose the map played in game 2 from the remaining two maps in the mappool. If a deciding third game is required, the only remaining map will be played in game 3.
As for the Ace match played in Bo1, both participants alternately eliminate one map until only one remains (A-B-A-B-A-B). The remaining map will be played.


Victory condition
A point is given for each map won. Ranking priority is first done by points, then number of matches won, then number of map losts, then score in the face-to-face match. A 2-0 victory gives 3 points to the winning team. 2-1 gives 2 points to the winning part, and 1 point to the loser.
---